Words
---
Hey art enthusiasts!
I wanted to post an update about what I've been doing.  While there hasn't been a lot to talk about, I've been in the studio day after day.  I'm finding it takes a long time to make a painting!!  In fact, I'm averaging a couple months for each. …
---
I got a chance to hang five pieces at an event last weekend.  It was the first time I've shown Sri Yantra, and I got a lot of good responses about it.  One of the things I've really enjoyed about putting my art up for people to see is that they get into it.…
---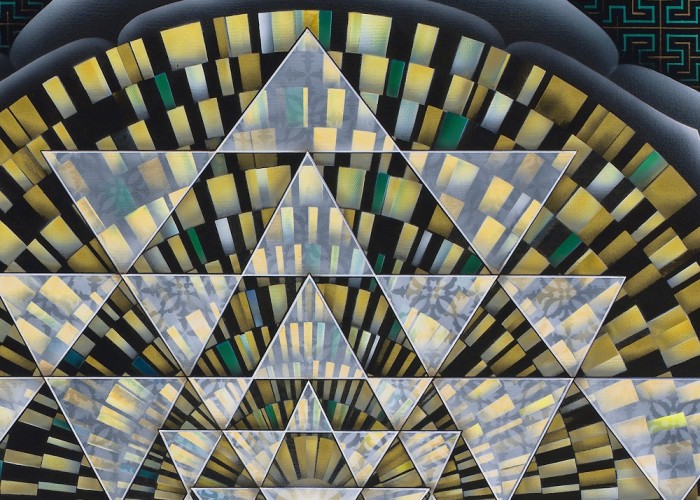 There are a lot of technical challenges around creating a perfect Sri Yantra form.  Just getting Nine triangles to line up tip to end is a challenge in and of itself, but then add the problem of creating a maximum number of possible intersections (which is 43 in case you hadn't figured that out yet…) where no two triangles touch side to side (tips together or tip to side only) and that no more than three triangles can touch at any particular tip…   You're starting to get the idea.…
---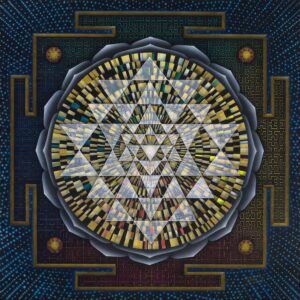 The Sri Yantra (aka Shree Yantra, Shri Yantra, Sri Chakra) is an ancient Hindu Vedic symbol, often regarded as sacred. Translated, it means "holy tool," or "holy instrument," and it can also mean "instrument of wealth."  The four upward triangles symbolize Shiva, the divine masculine, and projective forces, and the five downward triangles represent Shakti, the divine feminine, and receptive forces. …
---
I want to thank everyone who came to my first ever gallery stroll event at my studio at CazaLuna.
Dozens of people came over to talk about art, delve into some of my original works, purchase posters, and just hang with other friends and art lovers. I'm grateful for the continued interest, support, and encourangement.…
---
As I've been preparing the newest painting, the research has been fascinating.  I'm not sure quite why this keeps happening to me, but as soon as I start thinking about concepts and using symbols and images to relate or portray them, it feels like I'm being guided by an outside force. …
---
---