Element 11 Festival
---
Posted on July 16th, by Aspen Moon in
Blog
.
Comments Off

on Element 11 Festival
---
Photo Credit: Stan Clawson © 2013
For the past couple of years, I've been working on my largest art project to date, the Element 11 Festival and its associated 401(c)(3) non-profit corporation.  I was asked to be a founding member of the board of directors for this organization, which had been operating ad hoc, and from very small beginnings in 1999 as a local Burning Man spin off event.  With my business experience and education I worked as the Vice Chair to develop Articles, Bylaws, and the applications to form a non-profit corporate and achieve an IRS designation, establish operating priorities and goals for the organization, develop and define the director positions and operating committees, write contracts and financial agreements for the first time, develop the annual operating budget for the first time, and establish a brand new vision and culture for volunteer involvement.  This was all work I was able to guide the group through (as I figured it out) over the past couple of years.
Last weekend, the 2013 Element 11 Festival was featured in the July 14, 2013 Salt Lake Tribune.  Our event was wonderful, vivid, expanded, expressive, and impressive and a brand new way!  I've heard many say it was their best ever (even those who have been multiple times!).  I too felt it was one of the best of the 14 times I've attended the festival (since the first one).  Not because of my involvement necessarily, but because of the hard work and dedication of a great team of people who directed the many aspects of the festival.
Being the Operations Director and Volunteer Director for the festival for the past couple of years was a great experience, wonderful learning, and quite demanding.  So after the 2013 festival I stepped down to focus more on other things, painting being one!  So thanks to the Element 11 community for all the good times.  And thanks to those who suppported me on the BOD and asked for my help.  It was really fun.  See you on the long road!  -am. July 2013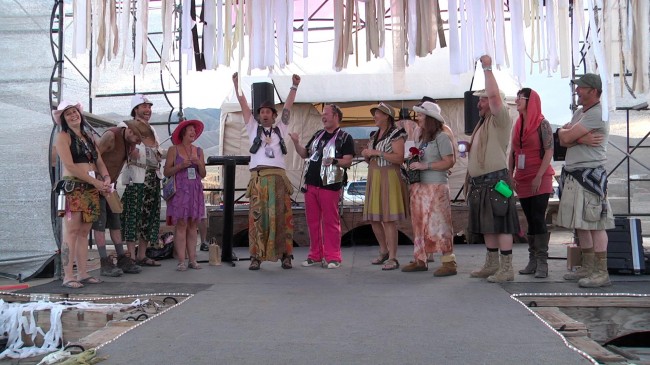 E11 2013 Board of Directors, celebrating after announcing my retirement at Element 11 Festival
---
---