Flower of Perseverance
---
---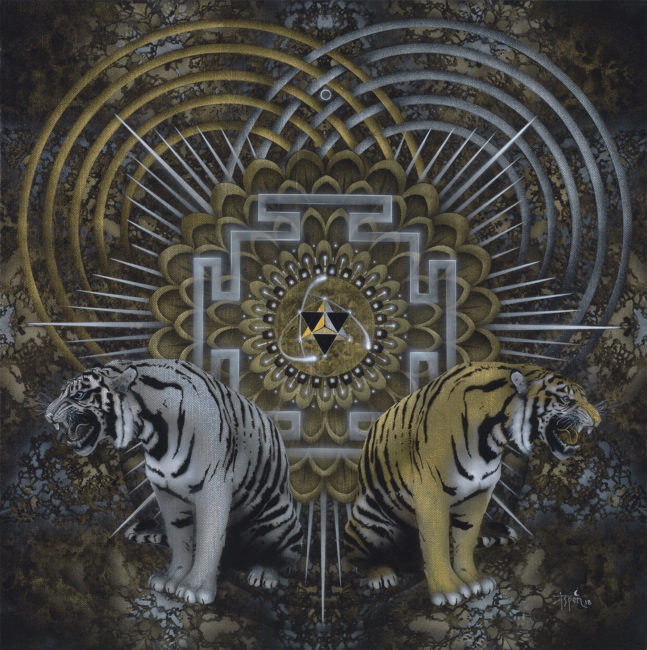 Flower of Perseverance, by Aspen Moon, February 2018.  Acrylic on Canvas 20″ x 20″. ( Private Commission )
This painting is the second in a series of five I'm doing as a commission. The series is of the Chinese Tiger Astrology for all five of the Chinese elements–Water, Metal, Earth, Fire, and Wood. All five will be used on labels for Brandon Armitage Winery out of Aptos, California.
The concept of the Flower of Perseverance is rooted in metal element. In Chinese, the character for "metal" and "gold" are the same. Both silver and gold are used in the painting, which as is the case with most heavy elements, are created when stars go supernova, collide, or are otherwise go boom. So I used this concept, expressed through the interlocking vesica pisces. This convergence of material energy feeds the creation of the 96-pedaled golden chrysanthemum.
The spiritual aspect of creation is represented by the bupura, which is often used to designate the boundary between Earth and realm of the gods or the otherworldly. The physical and spiritual cooperate to contextualize, and as such, create the three dimensional reality we observe–as we see in the multi-metal star tetrahedron, as it is being created through the interplay of energy, intention, and motion.
Gold and silver tigers act as guardians or sentinels to the star treasure, inspired by the tradition of the heraldic crests or coat of arms, which endure for generations. Much like elemental gold, which is truly inert, doesn't decay, and persists perfectly forever without tarnish or oxidation.
Lastly, perseverance is a characteristic of those with Metal Tiger astrology. It is particularly appropriate as this painting represents a huge milestone in both mine and Brandon's work. Mostly because it has been a supreme challenge to manifest this artwork due to the many demands and distractions in life–it took me over 2 years to get this finished. Perseverance was needed to create this work of art. But we prevail, because here it is–just in time to be put on 2016 vintage bottles. Hope you enjoy!
Aspen Moon
February 2018
Buhl, Idaho
Armitage Tasting Room
105c Post Office Drive
Aptos, CA 95003
TEL: 831-708-2874
---
---